14 DAY
RETURNS
BUILT
TO LAST
SAFER
TRAINING
Dual purpose cardio and strength platform. Features robust riser locking system to keep the platform sturdy during intense exercise. And target line to aid foot placement and activate the muscles to work how they're supposed to. Push fat burn into high gear.
Includes 4 red risers
Includes 1 platform – the optimum width for BODYSTEP™ and BODYPUMP™
Easy to move in one-piece between tracks
Simply detach risers after use and stack decks and risers separately
Perfect use in BODYPUMP™, BODYSTEP™, GRIT™ and personal training.
Specs & More details
USE

The athletic step and cardio platform engineered for LES MILLS™ workouts:

BODYSTEP™, a full-body cardio workout designed to tone your butt and thighs.
LES MILLS GRIT™, a high intensity interval training series.
BODYPUMP™, the original barbell class that shapes, tones and strengthens your entire body.

DIMENSIONS & WEIGHT

Platform - 105 x 42 x 10cm, 5.96kg.
Risers - 42 x 42 x 13cm (height for 2 risers stacked), 0.7kg (each riser).
Complete unit (platform with 2 risers locked in on each side) – 105.40 x 41.60 x 20.8cm, 9.00kg
41.49 x 16.37 x 81.89, 19.84lbs
The packaged weight of the SMARTSTEP™ SYSTEM is approximately 9.00kg / 19.84lbs and the packed volume is 0.1072m3

RISER DESIGN

Features 4 red risers (2 each side). When 2 risers are locked into each side of the platform the complete unit has a height of 20cm.
Additional risers are also available for purchase (but not necessary).
Circular design improves stability and makes riser placement easier.
If users want to push even harder, the SMARTSTEP can be used on an incline for effective propulsion and bench work.
Non-slip rubber feet hold the step firm on indoor flooring, without scratching.
Rubber feet improve shock absorption and reduce strain on joints.

PLATFORM DESIGN

Cardio training:

Stable and spacious surface gives plenty of room for foot placement during intense cardio.
Designed for optimal recoil, to engage muscles and let users jump higher.
Red target line acts as a coaching reference to aid foot placement and correct muscle activation.
Rubber surface and non-slip ridges deliver remarkable foot gripping and added safety.

Bench training

Wide and long enough to lie down on for chest presses, arm and back workouts. Perfect for someone serious about a well-balanced cardio and strength training program.
Comfortable surface under back and hands.

LOCKING SYSTEM & STORAGE

Riser lock-down system means the SMARTSTEP is easy to put together before exercise.
Lock-down system and circular riser design work together to keep the platform stable, even during intense cardio training. So users don't have to worry about the platform falling off the risers during exercise.
Riser lock-down system and contoured platform edging make it easy to move the SMARTSTEP in one piece between moves.
When users are done working out, the risers detach easily for stacked storage.

CONSTRUCTION & WARRANTY

Manufactured by injection molding for high precision and strength using engineering plastics.
SMARTSTEP platform and risers are life tested for a 136kg (300lbs) person in a high use, gym environment.
Backed by 2 year manufacturer's warranty.
Engineered for LES MILLS programs and available on LES MILLS+:


We ship anywhere in the United Kingdom and Ireland.
Les Mills will use its reasonable endeavors to ship your order within 10 working days and delivery is 1 to 3 days after shipping.
We do our best to find the most competitive shipping rates. Shipping charges are based upon the weight and postcode of your basket and are automatically calculated as you checkout. You can return unopened cartons within 14 days of receiving the shipment. Returns are refunded for the product purchase price, some exclusions apply. Applies to consumers only.
Learn more about
delivery options
and
returns policy
. Or email
lmuk.merchandise@lesmills.com
CARDIO & BENCH PLATFORM
PUSH FAT BURN
INTO HIGH GEAR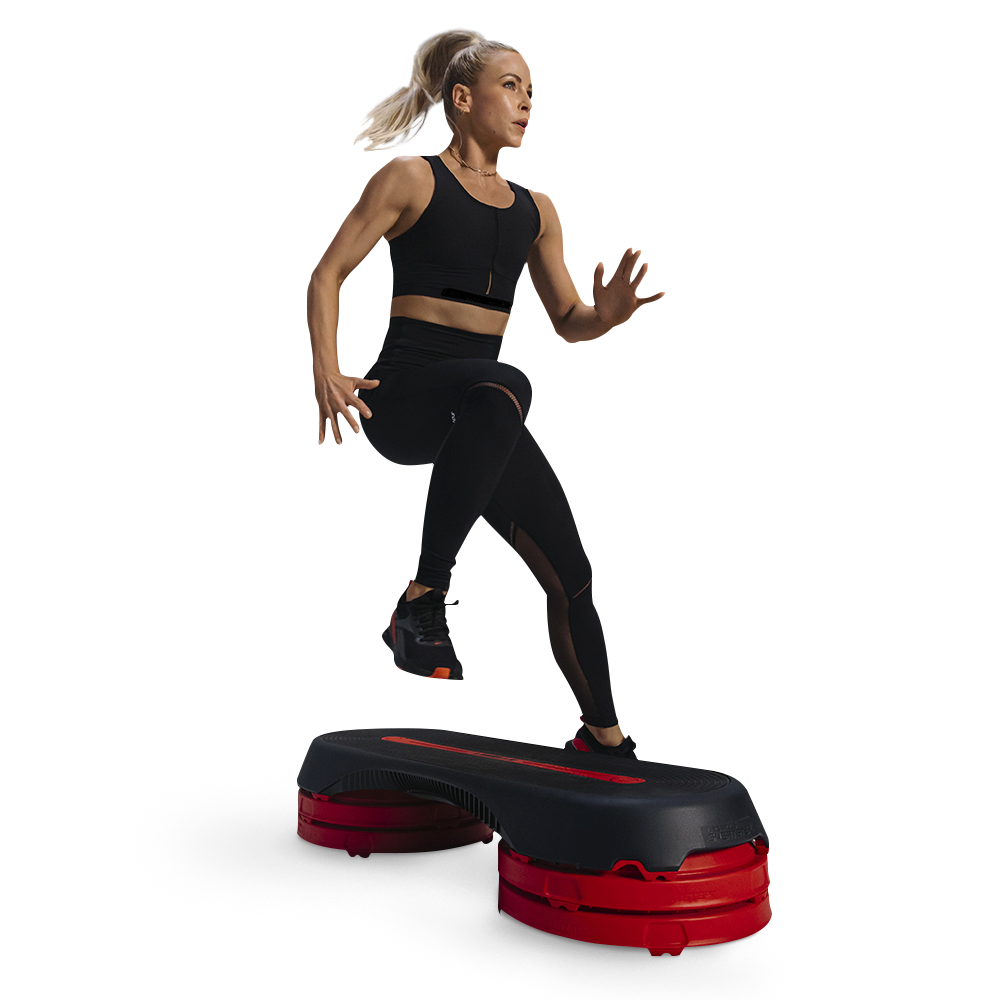 LOCK, STEP AND SOAR
The riser locking system keeps the platform sturdy, even during intense exercise. Plus, non-slip rubber feet hold firm on flooring. So when you step and soar, you feel secure.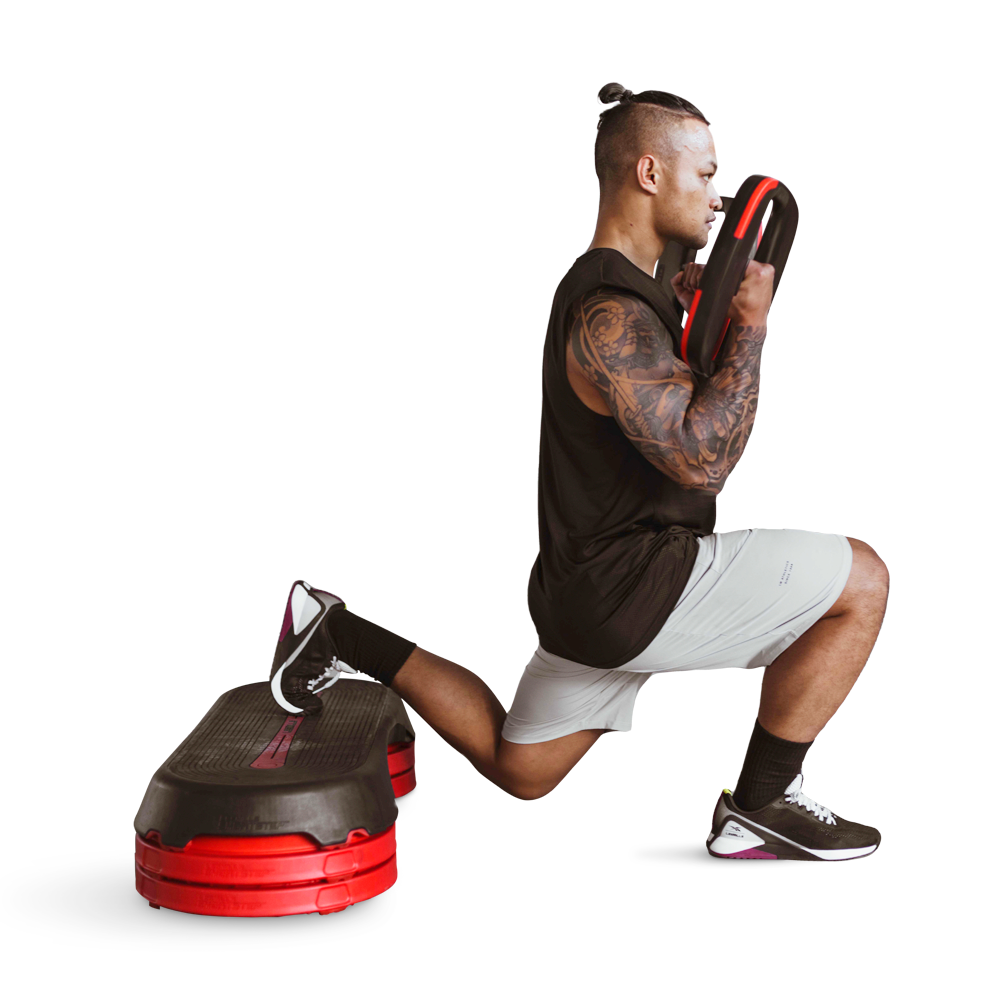 DUAL PURPOSE, DOUBLE THE VALUE
SMARTSTEP doubles as a cardio and bench platform. There's plenty of room for foot placement during intense cardio. And it's spacious enough for bench exercises. Perfect if you're serious about a well-balanced training program.
SMART TECH PERKS

14 DAY RETURN POLICY
?
We know you'll love your SMART TECH equipment. But we accept returns of unopened cartons within 14 days of receipt and we'll refund you for the product purchase price.

2 YEAR WARRANTY
?
We stand by the quality of our equipment. SMART TECH is built to last in the most demanding of environments. And backed by a 2 year warranty. It adds up to a seriously good investment in yourself.

PAY OVER TIME
?
When you choose Slice It at checkout, you can pay at your own pace instead of paying all at once. Just choose Klarna at checkout. It's secure and simple.