14 DAY
RETURNS
BUILT
TO LAST
SAFER
TRAINING
Get better core workouts, with the resistance band engineered for LES MILLS CORE™.
The SMARTBAND™ instantly improves your technique and helps you stay in the 'impact zone'. The kind that tones your abs, butt and legs.
delivers a low-to-medium level of resistance (perfect for beginner and intermediate fitness levels)
compressible rubber handles deliver maximum comfort in hand
over-molding integrates spine to band - providing stronger protection against snapping
ideal for the gym, personal training, home and travel
Specs & More details
USE

Considered a low-to-medium level of resistance - a perfect training tool for most fitness levels.

Engineered for LES MILLS™ workouts:

LES MILLS CORE™, a core strength class designed to improve your posture and tone your abs, butt and legs.
LES MILLS TONE™, a challenging class full of lunges, squats, functional training and resistance band exercises to help you burn calories (and take your fitness to the next level).

Also suitable for personal training.

DIMENSIONS & WEIGHT

123.0 x 2.5 x 0.4cm, 0.22kg
48.42 x 0.98 x 0.15, 0.47lbs
The packaged weight of the SMARTBAND™ is approximately 0.22kg / 0.47lbs and the packed volume is 0.0012m3
End to end length of 1,230 mm means the band can be used by a person of any height.

BAND PROFILE

Delivers a consistent change in resistance as the band is extended. Which means enhanced range of movement, technique and targeted muscle isolation.
Features a flat profile instead of a traditional tube. So when users are standing during resistance training, the band is less likely to move, roll or slip. And if the band twists under foot, it won't impact their workout.
Unlike traditional bands made of extruded rubber or latex, the SMARTBAND is constructed with a high quality TPE designed to create optimal resistance and reduce loss of resistance over time.
The LES MILLS logo makes it easy to identify the center-point during movement.

CONNECTED HANDLES

Constructed to solve a common problem with regular bands; the weak connection between tube and webbing.
The spine is integrated to the SMARTBAND with over molding. And nylon webbing passes freely through the spine in order to adapt to your movement. This delivers easy movement and enhanced functionality throughout your movement range.
Compressible rubber handles improve comfort in hand and stability under foot. So unlike traditional handles, users won't have to worry about plastic digging into their wrists, thumbs or arms (and limiting movement).
Textured handles deliver optimal gripping surface. The design also lets users easily hold a weight plate for extra weight.

WARRANTY

Tested for durability in a high use, gym environment.
Backed by 1 year manufacturer's warranty.
Engineered for LES MILLS programs and available on LES MILLS+:


USA
Delivery anywhere in continental United States.
Usually ships to your delivery address within 3-5 days. Rural areas may take longer.
Canada
Delivery anywhere in Canada (excluding Quebec).
Usually ships within 2 days and arrives within 3-10 business days from dispatch. Rural areas may take longer.
Shipping rates
We do our best to find the most competitive shipping rates.
For more info on shipping rates (incl tax & duty) find out more here.
Returns
You can return unopened cartons within 14 days of purchase.
Returns are refunded for the product purchase price, exclusions apply.
Learn more about delivery options,our returns policy, and how to care & store your equipment. For any other queries email info@lesmillsequipment.com
RESISTANCE RE-DEFINED
STRONGER CORE
STRONGER EVERYTHING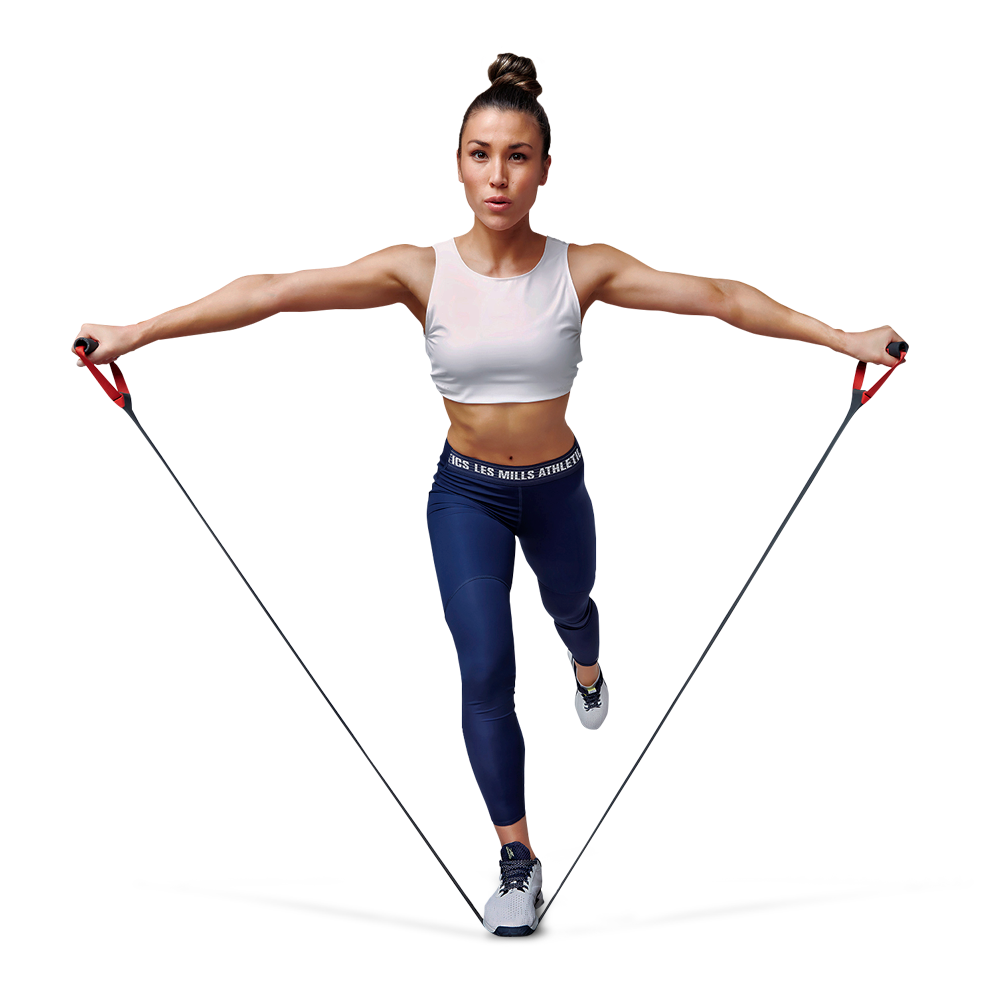 STAY IN THE IMPACT ZONE
The band delivers consistent change in resistance on extension. Translation: the band instantly improves your technique by targeting the right muscles. Which means you'll see faster body shaping results.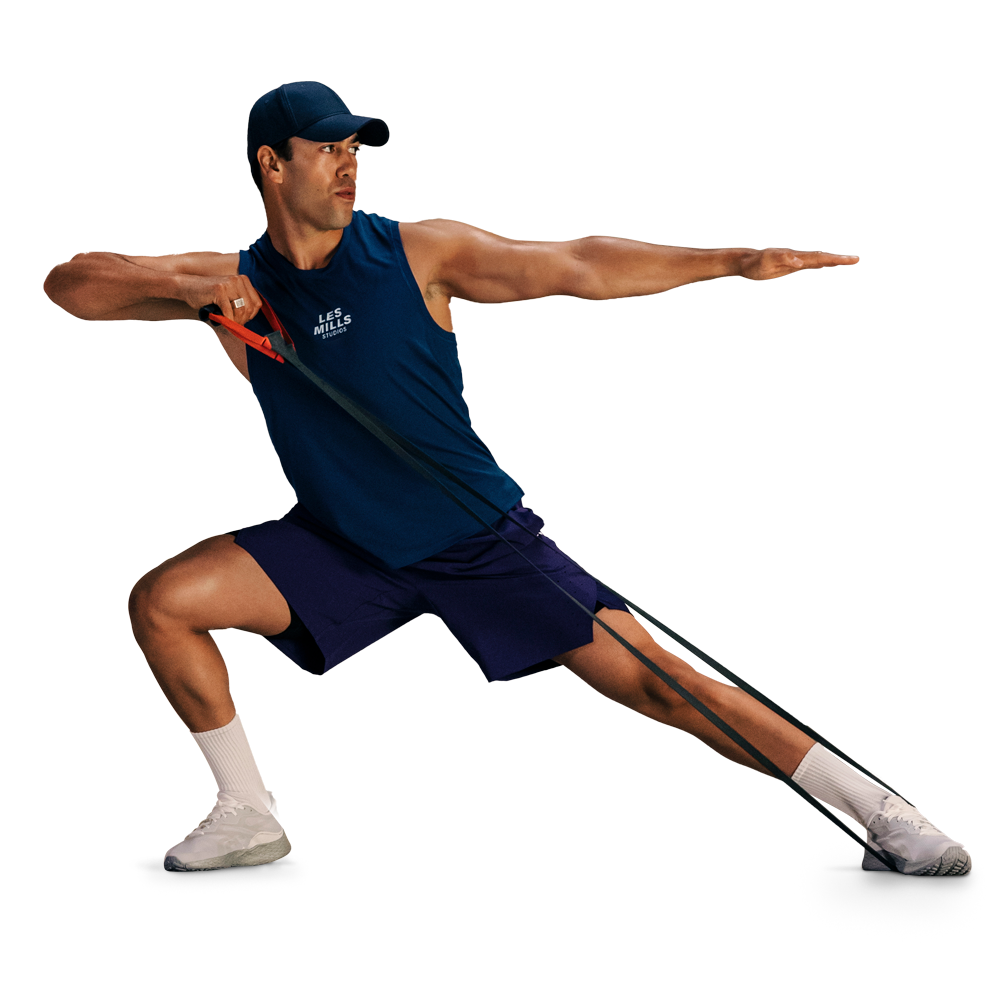 RESISTANCE RE-DEFINED: INTENSE COMFORT
The problem with traditional bands? Tubing. It digs painfully into your feet when standing. And rolls out during leg extensions, killing flow. The answer? A flat band that stays soft and underfoot all track long. Problem solved.
SMART TECH PERKS

14 DAY RETURN POLICY
?
We know you'll love your SMART TECH equipment. But we accept returns of unopened cartons within 14 days of purchase and we'll refund you for the product purchase price.

1 YEAR WARRANTY
?
We stand by the quality of our equipment. SMART TECH is built to last in the most demanding of environments. And backed by a 1 year warranty. It adds up to a seriously good investment in yourself.

PAY OVER TIME
?
When you choose Slice It at checkout, you can pay at your own pace instead of paying all at once. Just choose Klarna at checkout. It's secure and simple.