14 DAY
RETURNS
BUILT
TO LAST
SAFER
TRAINING
Carry it all in style with this cotton canvas carry all.
The perfect home for your Yoga Mat or your MBX MAT™, this stylish bag has room for your towel and drink bottle too. There's an adjustable shoulder strap and zippered closure for easy access.
The separate side pocket is perfectly sized for your keys, wallet, and phone.
MATERIAL: 100% cotton, durable 12oz cotton canvas.
SIZE: ONE SIZE: 70cm/27.5inch long, 16cm/6.2inch (diameter). Adjustable shoulder strap for comfortable carrying.
WEIGHT: Lightweight 270g / 0.6lbs
Specs & More details
DIMENSIONS & WEIGHT

SIZE: ONE SIZE: 70cm long, 16cm (diameter). Adjustable shoulder strap for comfortable carrying.
WEIGHT: Lightweight 270g / 0.6lbs

CONSTRUCTION & WARRANTY

MATERIAL: 100% cotton, durable 12oz.
WARRANTY STATEMENT: As a consumer purchasing equipment for your personal, domestic use, you are entitled to the applicable legal rights stated in your national legislation concerning the commerce of consumer goods.

CARE INSTRUCTIONS

CLEANING: Just like anything you own and wear, your cotton canvas bag can get dirty with use. You can keep your bag fresh by spot cleaning any marks, and your bag is machine washable too. Machine wash separately (or with like colors) in cold water (30˚C). Cold water can reduce shrinkage and help the bag retain its shape. If possible, you'll also want to lower the centrifuge speed so it's gentler on the bag. Higher speeds could damage the bag, making it lose its shape. You can use a spot stain remover but follow the instructions on the product. Do not bleach. Hang to dry (recommended). If you must use a tumble drier, use very low heat, because heat can cause the bag to shrink. Iron on reverse.
Follow cleaning / care instructions on the label.
The color may change over time.
To find out more about our products visit https://www.lesmills.com/merchandise/equipment/care/
Engineered for LES MILLS programs and available on LES MILLS+:


We ship anywhere in the United Kingdom and Ireland.
Les Mills will use its reasonable endeavors to ship your order within 10 working days and delivery is 1 to 3 days after shipping.
We do our best to find the most competitive shipping rates. Shipping charges are based upon the weight and postcode of your basket and are automatically calculated as you checkout. You can return unopened cartons within 14 days of receiving the shipment. Returns are refunded for the product purchase price, some exclusions apply. Applies to consumers only.
Learn more about
delivery options
and
returns policy
. Or email
lmuk.merchandise@lesmills.com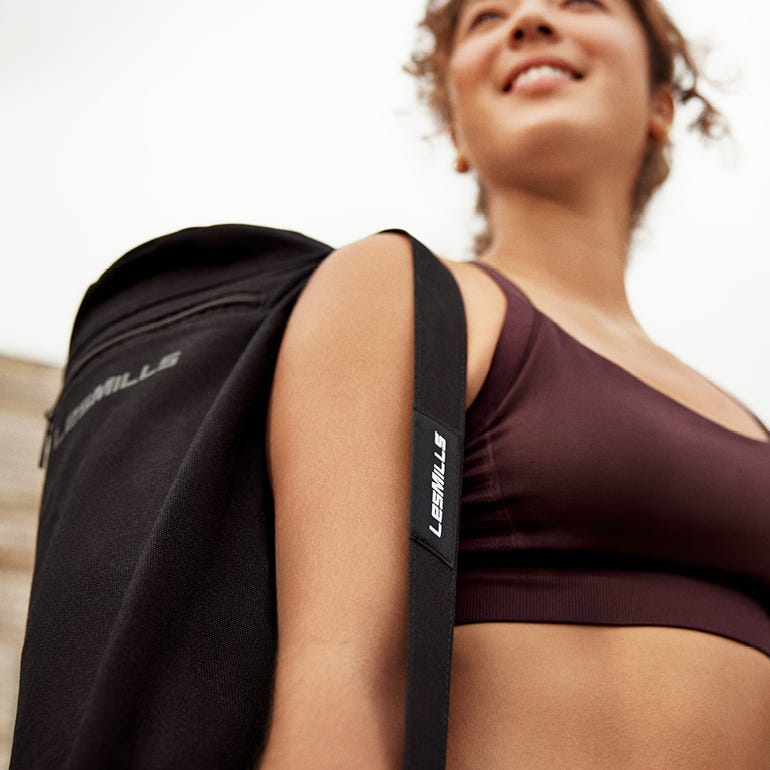 SIMPLIFY YOUR PRACTICE
No more hassle packing and carrying your Yoga gear to and from the studio. Ease into your practice knowing your keys, bottle and other everyday essentials are not far away.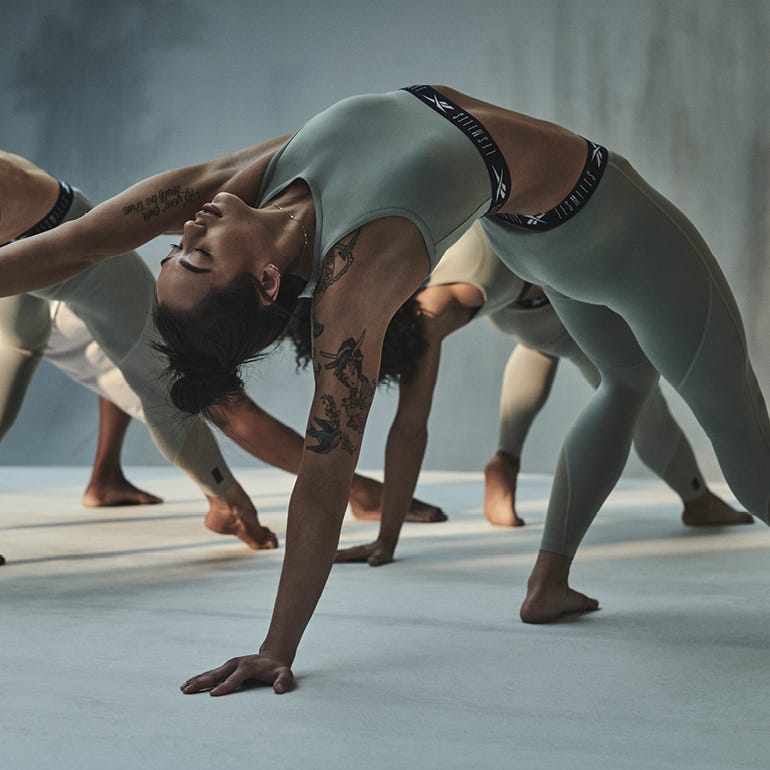 EXPERIENCE NEW GENERATION YOGA
Improve flexibility, build strength and feel calm & centred. Bend and stretch through a series of simple yoga moves, elements of Tai Chi and Pilates to an inspiring sound track with BODYBALANCE.